Boracay Guide For Couples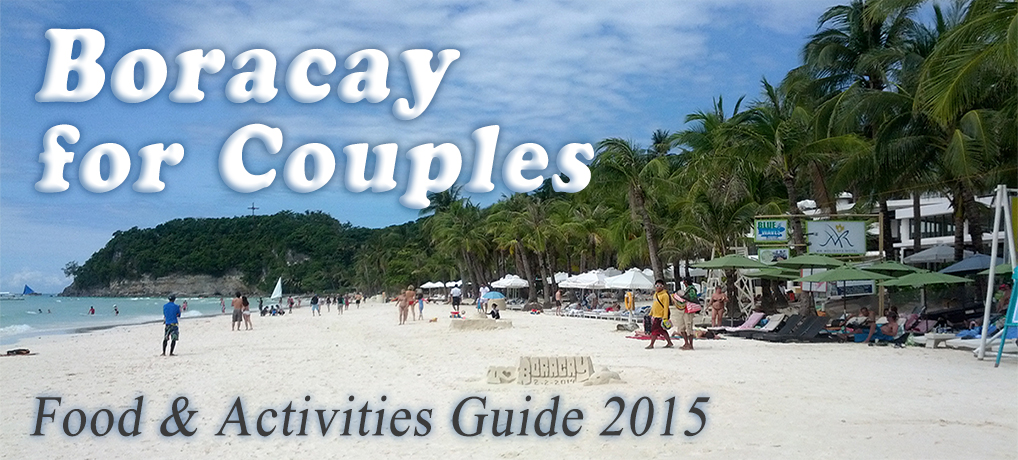 Hey Everyone!
I spent a week in Boracay. Rated the 2nd most beautiful island in the world!
I wrote down every single activity I did on the island as well as all the foods and drinks I tried. This article is for my own personal reference for my future visit!
Now lets get started!
Arriving to Caticlan Airport
Tricycle from Caticlan Airport to Caticlan Jetty Port  – 50p
Caticlan Jetty Port Fees
Caticlan Boracay Transport Multi-purpose Cooperative – 25p
Terminal Fee – 100p
Environmental & Admission Fee – 75p

Boracay Jetty Port
Tricycle to your hotel. Here are the prices depending on station:
Station 1 – 150p
Station 2 – 100p
Station 3 – 80p
Note: If your really on a budget you can split the cost in half with another person going to the same station.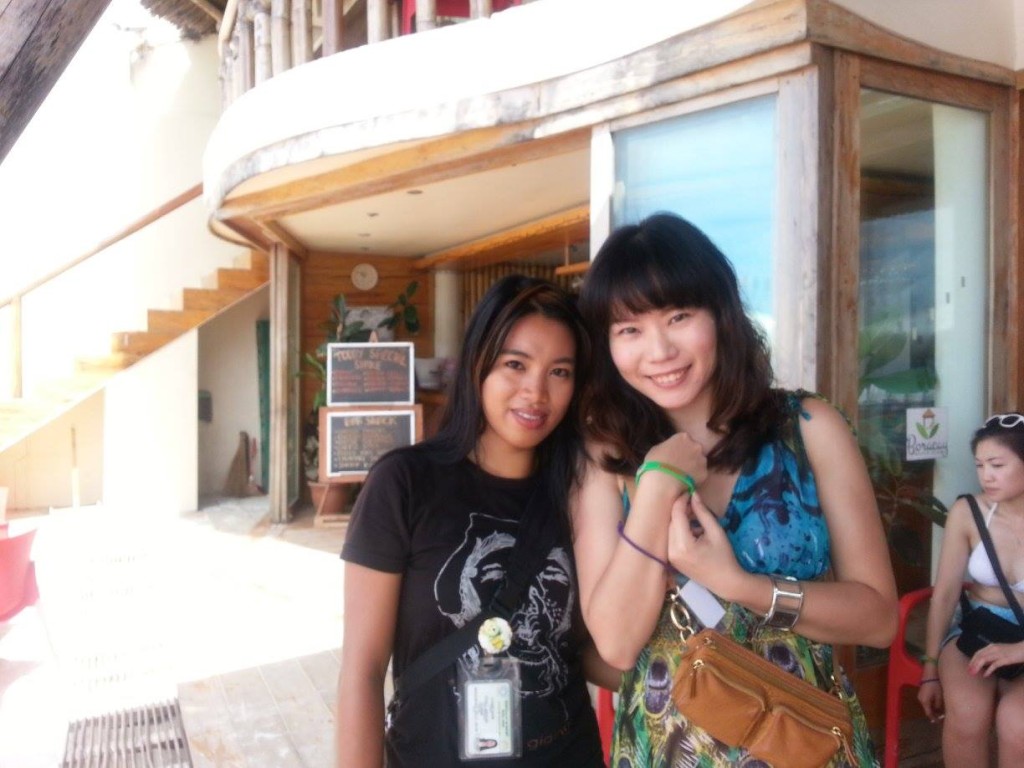 Local Tour Guide
If it's your first-time ever in Boracay and want a hassle-free trip. I would highly recommend a local tour guide. I personally used Rizan rizan0104@hotmail.com who was recommended to me by another friend that used her services. Just tell her what you would like to do and she will plan your trip and meet you as well for your activities. I liked her services for the following reasons:
1) Kept our belongings safe
2) Took pictures/videos while we were doing the activities
3) Negotiated a fair price for a waterproof bag. Guy wanted 150p. We got it for 80p.
4) If there are any issues with the activities she will be on your side! (example: Our photos and video for Helmet Diving were not good. She managed to convince them to allow us to do the activity again, free-of-charge!
5) Her prices are fair for activities. I don't like to negotiate, haggle, etc.
6) She's friendly, personable and accommodating!
7) No extra fees! You only pay her for the activities and she gets a commission from it, which is the same price you would get anyways if you were to walk up to the DIAMOND kiosks!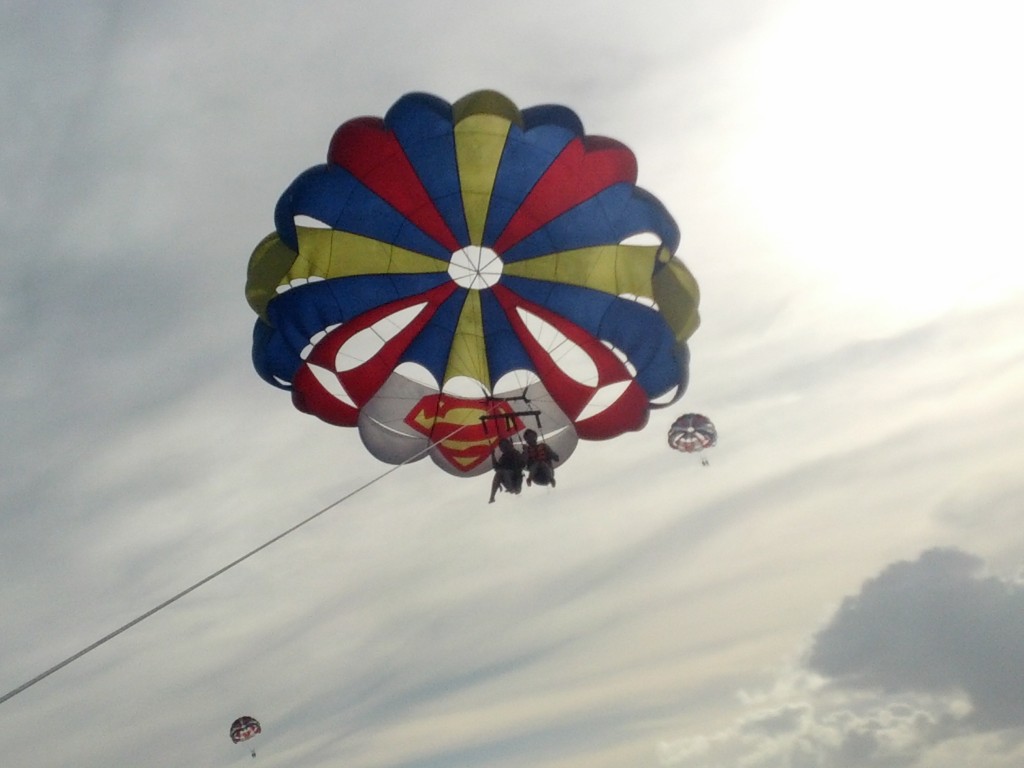 [Updated 2015] Prices: PAX (1 person)
Helmet diving – 700p PAX (15mins – includes a CD with pictures and video)
Banana boat – 250p boat / 15min / 5 minimum (1250p minimum for the boat)
Parasailing – 900p PAX / 15min (Minimum 2 people. Up to 3 can fly)
Note: Prices changes frequently for Parasailing. Can be high as 1600p PAX
Fly Fish – 1800p / 15min / 3 people (4 people it will be 2000p)
Zorb 380p PAX / 1min (temporarily out of service)
Zipline 900p PAX / 6min (includes Zipline and cable car)
ATV 750p PAX
GMax 1500 PAX (groups of 3 can get a discount for 1000 PAX x 3)
Jet ski – 2000p/unit, 30mins, good for 2 people
Buggy Car – 1500p/unit, 60min, good for 2 people
Land tour – 700p/unit (120min, good for 3 people)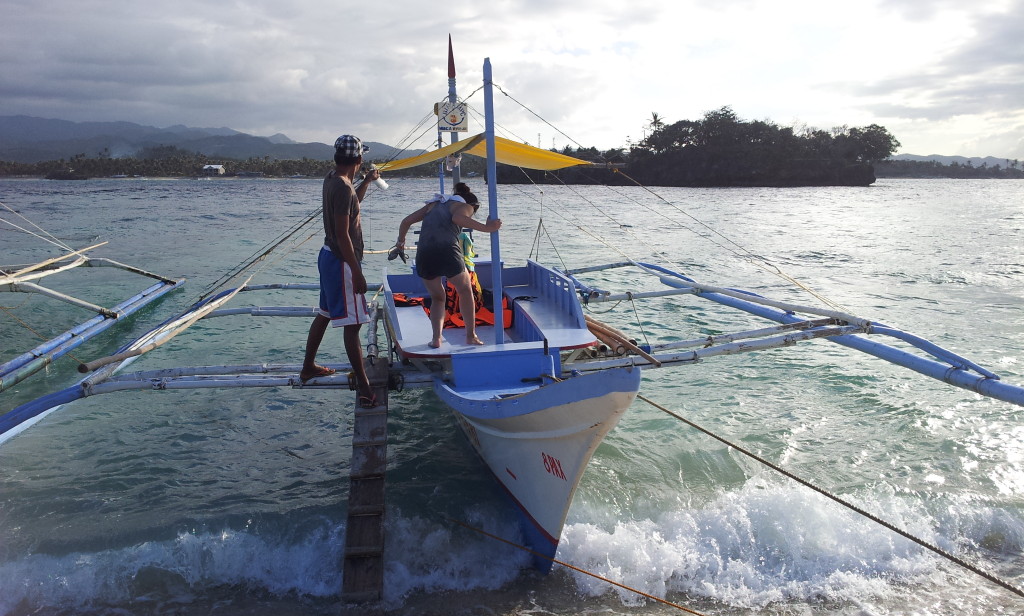 Island Hopping
Allen b Fun Tour – 800p includes BBQ lunch / 10am to 4pm (time is fixed)
Private boat – 2300p / whole boat / 3 Hours / good for up to 6 people
– Not including crystal cove cave fee 200p
Can also go to PUKA beach. Weather permitting.
Food Tip: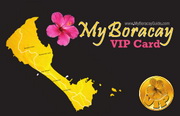 Get the "My Boracay VIP Card" which you can pick up at various restaurants or shops. It's great for discounts around the island. I saved 15% at Tilapia N Chips (Currently #1 restaurant according to TripAdvisor) and 10% at Vallaha. (My personal favorite) I also got a free bottle water at the Submarine Sandwich shop
Boracay Tipping Guide
Food: If there was a service charge. No need to tip. Otherwise roughly rounding up to 10% of the bill is fair. If the service was bad we left 20p no matter the cost of the bill. However, you can leave NOTHING as well.
Masssage: 50p for a decent massage. Left 100p for an AMAZING massage. NOTHING for a bad massage.
Tuk Tuk Driver: 20p is fine. Gave 50p for long distances and if the driver was friendly and helpful.
Maid / Cleaning Lady: 50p she will make your room super clean!
Boracay Food Guide
Dmall Station 2 restaurant guide: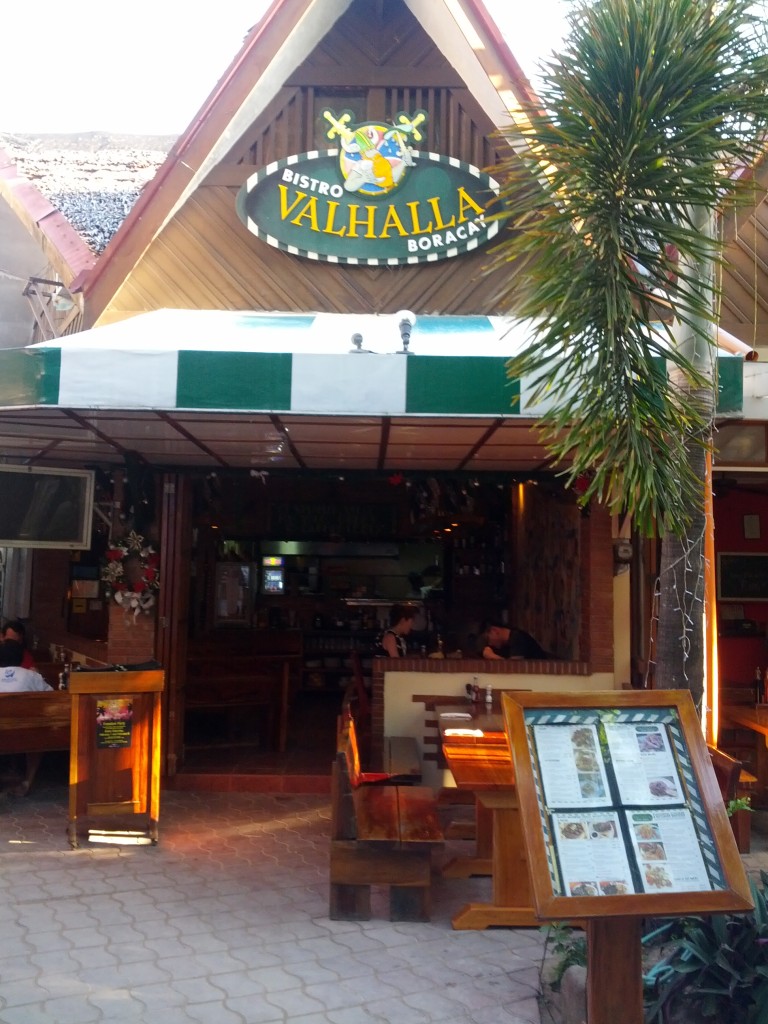 1) Valhalla – best meal we had.
Filet Mignon 605p & Cajun Chicken with shrimp 480p. Mmm…Delicious!
2) I Love BBQ – Average meal.
Bulalo Steak: 290p -not enough meat, too much fat and bones
Mushroom Garlic Steak: 285p -too salty
3) CYMA – Average meal.
Steak Souvlaki: 465p – steak was decent, but for what you pay you don't really get a lot. Very overpriced.
Chicken Gyros: 180p – rated the favourite among customers. Found it just average. Very dry.
4) Hungry Monkey – Owners are foreigners who live right above the restaurant. Occasionally you will see the lady walk her cute colorful dog around Dmall. Here is what I ordered:
Meat lovers hotdog – 160p (good tasty hot dog)
Beef n cheese fries – 130p (average. exactly as the name indicates)
Thai iced coffee – 80p (Not a fan of coffee, but this thai iced coffee tasted pretty good)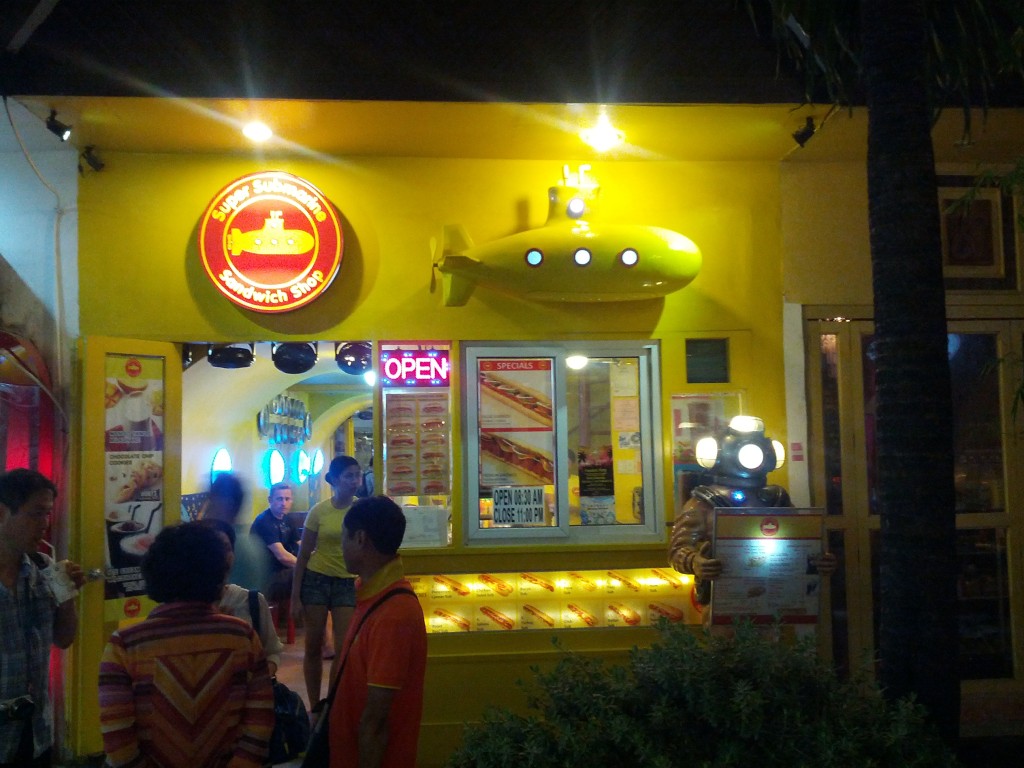 5) Super submarine
Roast beef submarine – 295p (tasted pretty much the same as "SUBWAY")
Free water with VIP card
6) Tres Amigos
Chicken Burrito – 190p
Al pastor – 210p
Tree amigos tortilla combo – 320p
(Chicken, Beef, and Shrimp Taco)
Sides: Mango, Advocado, Salsa
All the food at Tres Amigos was excellent! I love the sides they provide which goes really well with the tacos or burritos. This was my favorite place for Mexican food in Boracay.
7) Pancake House
Breakfast Set (average)
Banana Walnut Pancakes (average)
Apple Smoothie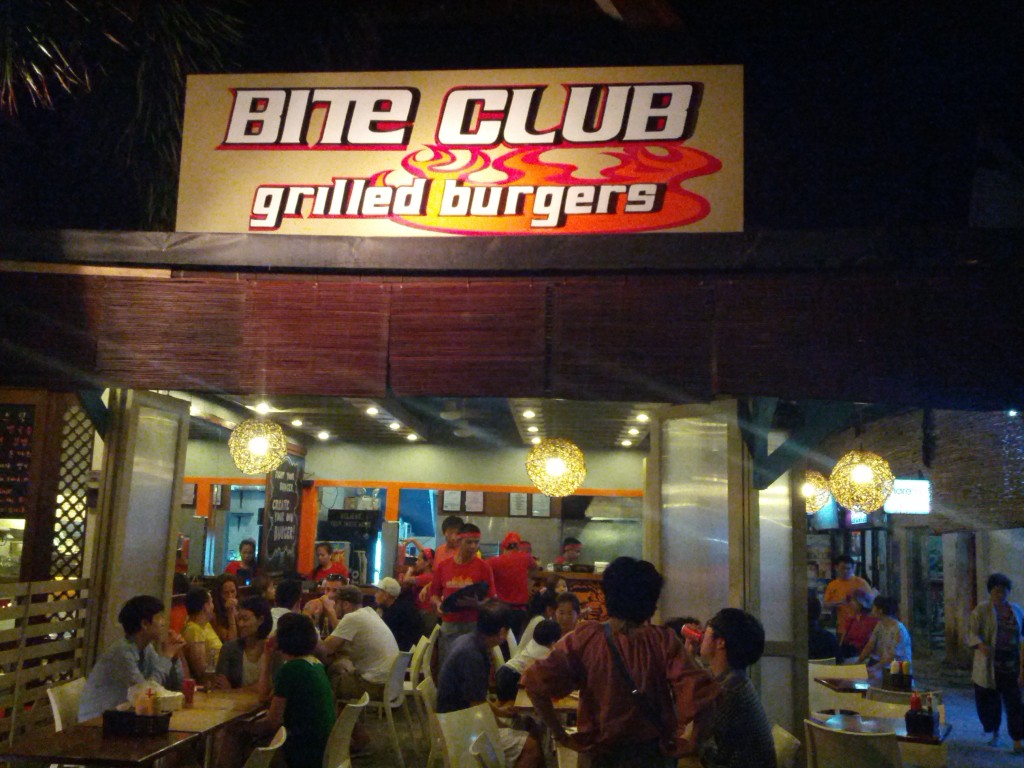 8) Bite Club Grilled Burgers
Hands down the best burgers on the island. They simply know how to make burgers! They offer only BEEF burgers, you can get double or triple beef and comes with ONE free topping. I got the blue cheese and it was delicious!
9) Smoke Resto Restaurant
Great cheap 24 hour place. Try out the Chili Chicken 120p and Khao Pad 140p
Yellow Cab (On main beach)

Manhattan Pizza – 380p (excellent)
New York Pizza – 410p (excellent)
They know how to make awesome pizzas!
Bulabog Beach Food
Munchies:
On the main street to bulabog beach
Fajita –220p (good)
Philly cheese steak –210p (very good)
Cheapest Bar in Boracay:
Bei Kurt and Magz (Station 3)
CAI piranha – 30p
Rum and coke – 25p
Boracay: Ariel's Point
Highlight of my week. If you only have 1 activity to do. Go to Ariel's Point. Beautiful views and awesome activities such as snorkeling, kayaking and the most famous activity of them all…CLIFF DIVING! I cut my nose, cheeks, got bruises on my legs and had a layer of skin peeled from my skin after jumping from the highest cliff, but loved every minute of it. It has been exactly one week since I was there and my body is still sore, but I would go back in a heart-beat!
TIP: Buffet is served on the second highest level in the seating area. Sit around there and you will be the first ones to eat or risk a long lineup. I was fortunate and happened to sit a few feet from the buffet table and was one of the first people to try out the buffet. When I went for my second plate, the last person just finished getting his FIRST plate! (Also no lineup for seconds!)
Time: 11:30am – 4:30pm
Includes: BBQ lunch, soft drinks & beers
Cost: 2500p 
Boracay Spa & Massage
Massage by Abe – 400p: The best massage I got on the island. Abe is the best!
Palazzo Spa – Paid for 1 hour and got about a 50min massage. Secondly the masseuse were talking and laughing with each other. Did not enjoy it.
Victor Ortega – 250p: I originally planned on getting an 1-hour massage but BETH was amazing so I extended for 2-hours!
Hotels: Where to stay in Boracay?
I personally stayed at a Villa in Station 1 which is the most expensive area on the island. However, if I was to go back I would stay either in station 2 or station 3 because that's where most of the cheaper bars and restaurants were located.
HotelQuickly offers the equivalent of 600p off your first booking if you use my invite code:
https://www.hotelquickly.com/invite/coltc/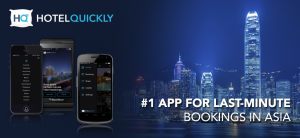 Departing Boracay
1) 100p to boracay port
2) 100p terminal fee
3) 200p for boat ride and mini van to kalibo airport
 If going to caticlan airport cost is 50 pesos from caticlan port
Boat ride to/from Boracay from caticlan jetty port is 25 pesos
1hour 40min (total time)
Kalibo terminal fee (domestic) = 100p or 500p (international)