This is the 4th post about Malapascua Island written By Danielle. The American girl that I've written about following the events of Typhoon Yolanda here and my 2nd post here and the 3rd post here.
It's been a long time since I've taken a moment to sit down and write my thoughts out.
And, honestly, with the mess of thoughts going on in my mind, it really was for the best. 
I'm sure you already know, I don't put much stock in traditional conventions.
I follow my heart, I do what makes me happy, and I don't seek anyone's approval.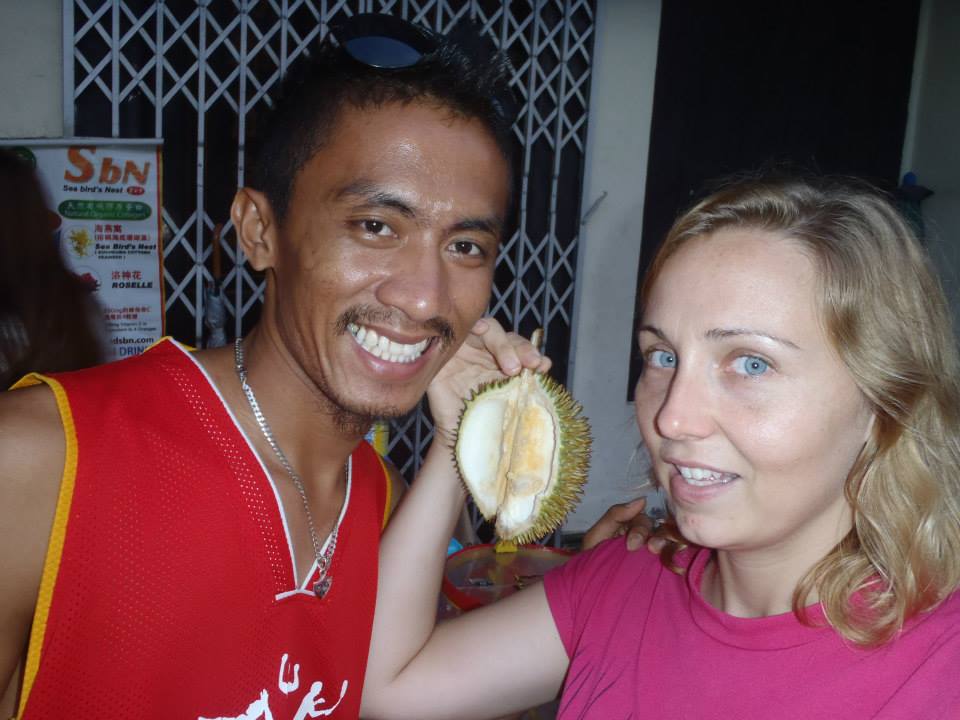 More than 2 years ago, I followed my heart to Malapascua Island, Cebu, Philippines
for diving and relaxing. Actually, I meant to stay for 4 weeks. But I met Julius. We began a whirlwind underwater courtship that kept me from making an onward travel plan.
Someone told me "We don't pick who we fall in love with, and it never happens
like it should." Isn't that the truth! 
Though I didn't have prior plans to remain in the Philippines, I did have a desire to experience
what it was like to 'live as the locals do' in a developing country. I just wanted to give myself a dose of humility, as a reminder to appreciate every opportunity I've been granted.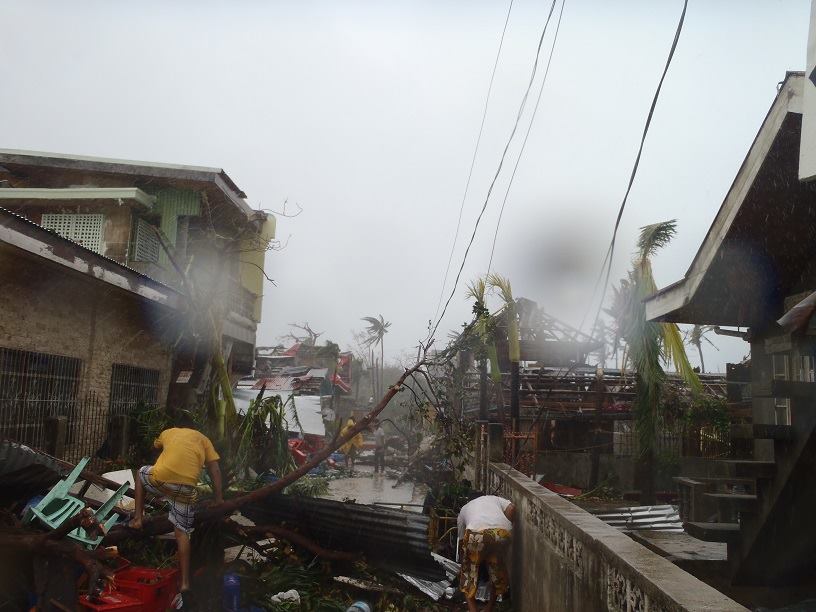 Malapascua is a rural Filipino island. Poverty is fairly rampant here. Most people reside in tiny make-shift shacks of salvaged plywood, coconut lumber, bamboo and palm leaves. Many homes are not equipped with electricity, running water
or toilet/shower facilities. Most locals support their families by fishing or working at a resort.
The resorts on this island exploit the locals. The resorts recognize that they have the
upper hand. They offer very poor wages, poor working conditions, long hours and
no benefits… Simply because they can and no one is here to enforce the labor laws.
National minimum wage is 327P per day, but average wage on this island is 150P-200P
per day. Wages are paid per day, not per hour, and some employers require 12+ hour days.
Many people have to support an entire family on less than $150USD per month…
How far does $150 USD get you in the states??… Is that your cell phone bill?
Maybe it's how much you spend on gasoline for your car each week?
Imagine now, that someone is supporting their entire family for a month, on that
same amount. I mean, we're talking Mom, Dad, at least 3-4 children, and perhaps
Grandma&Grandpa. That $150USD buys them rice, fish, bread, noodles, a few kilos
of vegetables and VERY little else. Imagine that many people eat meals that consist
solely of rice, because they cannot afford any additional sides or entrees.
I have traveled through developing countries. I have seen poverty that will make
your chest tighten and bring a lump to your throat. But those experiences as a
traveler could not have prepared me for what life is like living as a local in a developing
country, particularly after a natural disaster.
I made the choice to reside in the Philippines and I don't regret it for one single moment.
The lessons learned and memories made here have given me a new perspective on life.
Four months ago, Typhoon Yolanda devastated the Visayas (central) region of the
Philippines, including the island of Malapascua. I was here for the storm with Julius.
The storm claimed our roof, damaged our kitchen and filled our home with dirty storm
water. But we were lucky. We still had most of our home. Nearly 80% of the residents
on this island were not so lucky. They were left with nothing more than a pile of rubbish
where their homes once stood.
The destruction was amazing. After the storm, Julius and I went to survey the damage.
I thought there was NO WAY everyone here survived. I expected several hundred
fatalities. Hundreds of trees down, debris covered every path, entire homes laying flat,
boats turned upside down, boats stuck in trees, entire villages cleared, buildings toppled.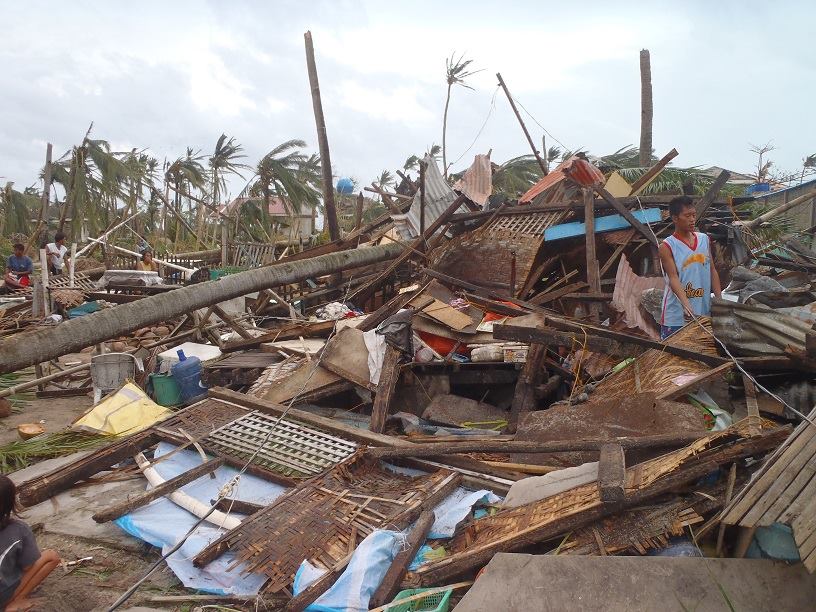 But, through some miracle, EVERY person on Malapascua escaped with little more than
scratches.
Despite all of the destruction, locals remained in good spirits. Frequently jokes were
made about the situation. "Yolanda helped me move to another village." "I can't go
home, because Yolanda took my home."
The local port at the mainland endured the same destruction, and most roads leading to
the port were covered with debris. So, our supply chain was broken. We could no
longer get any supplies from the mainland. No fruits, vegetables, rice, and no fresh, clean water
A few days after Yolanda, supplies on the island wore thin. So we made the choice
to charter a boat to a port further inland in the hopes of seeking water and supplies
for my friends and Julius's family. After several hours on board, we arrived to find a
long line waiting for clean water from the only Water Purification Facility equipped
with a generator. We waited in line more than 8 hours for the water. We purchased
several sacks of rice, 80 bottles (20liter/5gal) of water, and boxes of canned goods
and dry foods. By the time everything was loaded to the boat, it was too dark to
attempt the crossing back to Malapascua so we were forced to sleep onboard at port.
While in this port city, we were finally able to get a cell signal and contact Julius's
sister who could inform our families that we survived the storm. That was the first
moment that I allowed my emotions to come to light. It was the first moment that I
allowed myself to cry about the situation. Do not get me wrong, I did not feel sorry
for myself. No, My heart was breaking for my friends, neighbors, family and the
hardships they were facing.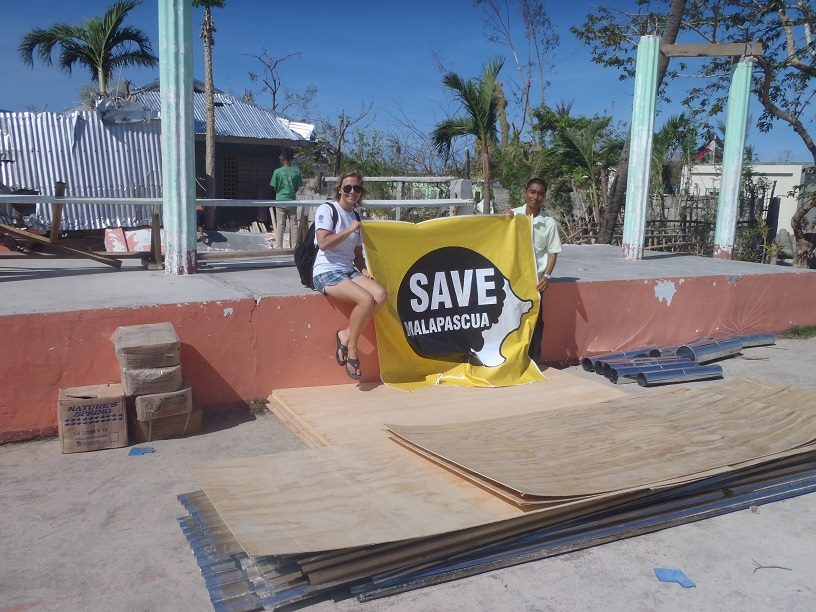 After another week, Julius and I made the choice to visit the city so that I could
contact my family directly. When I logged into Facebook, I found that Julius's sister
had created a donation page for our friends to donate towards Malapascua relief.
I saw so many words of kindness and well wishes and every word made my heart
swell with pride. I am infinitely grateful for the kindness of those friends.
In total, I received around $1,500USD in donations. I used those funds to support
several families and fund several supply trips to the mainland. I was able to provide
rice, canned goods, soap, machetes, tarps, (re)building supplies, school supplies, and
most importantly, WATER. I spent a great deal of the funds supplying my friends &
family with fresh, clean, purified water.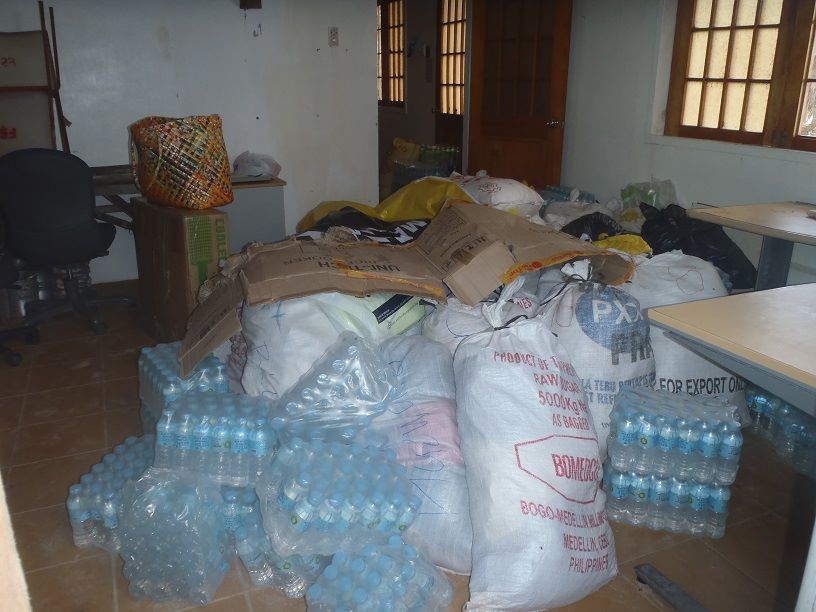 I assisted with the evaluation and testing of the local water sources. I went to several
villages and distributed purified water, slippers, food, tarps, and other household
supplies. I helped create a soup kitchen out of a diveshop that supplied many locals
with a daily meal. I cleaned wounds and distributed basic medical supplies. I assisted
with the rebuild of the high school. I distributed donated books, water filters, water
purification tablets and donation clothing. I assisted in the rebuild of a friend's restaurant.
I knew from the start that I wouldn't be able to help everyone, but I knew that I… WE…
Could make a difference for someone. And we did. In the midst of this recovery phase, Julius
and I remained homeless while our landlord repaired our apartment. We slept under a make
shift tent at the beach. We lived without any cell or wifi access for several weeks. We were homeless for a month.
We lived without electricity for nearly two months (though it was intermittent for an additional twomonths). And we will continue living without running water for some time, while our landlord
continues to rebuild and repair. In the days after the storm, a friend asked if I would leave the
island. To which I replied "No. This is my home, why would I leave when I'm needed the most?"
I had the choice to flee as most of the other foreigners did. I had a choice to live in a cushy
hotel, or transfer to an island that wasn't damaged. But, I made the choice to stay and help and
'suffer' along with my neighbors, my friends, my family.
I put away my diving gear, and instead I carried boxes, I cleaned, I carried lumber, I painted,
I distributed relief goods and I helped wherever I could.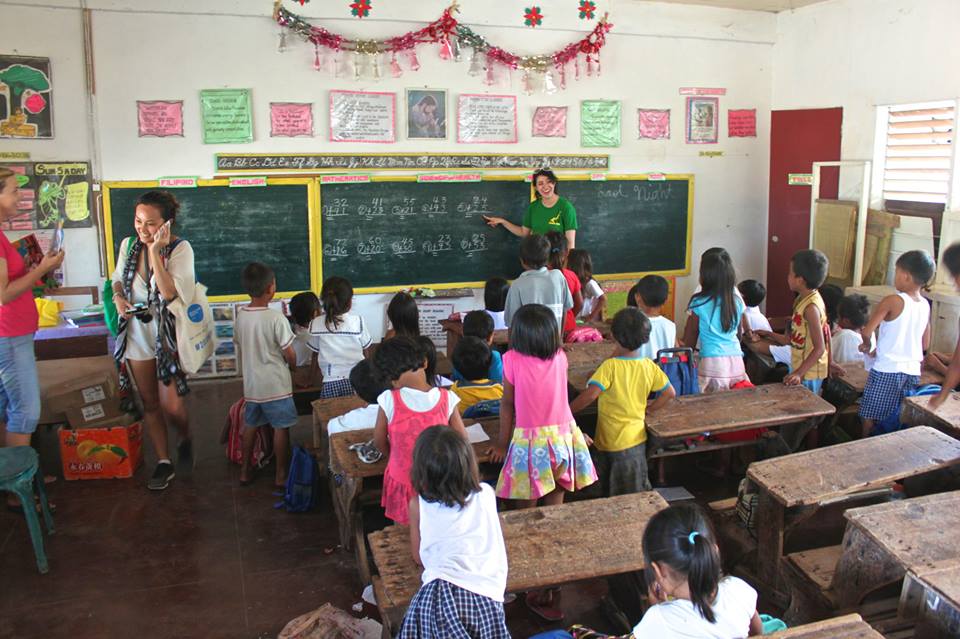 Relief efforts are coming to an end, as life is just now getting back to normal for most
people on Malapascua. Though much slower than previous years, business/diving is still going on and tourists are still arriving. Reconstruction is steady, but, for many, it will be an ongoing
process over the next several months.
I can't begin to put into words how this experience has changed my life. I wish I could bottle
some of the humility I've learned here and pass it to my friends when they complain about silly inconveniences in the 1st world ("white-whines").